You may recall that last week I told you about my new 28 day challenge. I decided, after seeing unflattering photos of myself, to try and shed a few pounds. Well here we are in week 2.
I decided to write a blog about it, to keep me accountable. After all, I don't want to give up half way through. So as promised, this is me checking in with you again this week with a progress update.
Challenge Recap
The challenge I set myself for the 28 day period was to: –
Do Qi Gong every day (for at least 20 minutes);
Meditate every morning after my Qi Gong set;
Walk at least 5 km per day;
Drink at least 2 litres of water each day; and
Practice intermittent fasting – eating only in an 8-10 hour window each day.
Now that I look at it, it's clearly more than 1 challenge!
Challenge Review of Week 1
I'll not share with you what my starting weight was. Suffice to say I need to lose a significant amount, more than 30 lbs. What I can tell you is that I lost 2.5 lbs in my first week. Initially, I felt a little disheartened – it doesn't seem like a lot. Then I realised that if it comes off slowly, it will stay off. It also took me many years to add the pounds on, so it will take a while to lose them. It is an exercise in patience! At least the scales are going the right way now.
I am using the health app on my phone to track my food, water and exercise. I'll not lie to you – walking 5 km each day has been my hardest challenge.
Probably, it is down to the time it takes. I have been playing around with my routine to try and find what works. It is important that it fits into my work/life balance or it won't get done.
The first few days were OK. I managed to walk 5 km and get my step count up near 10,000. If I wore a step-tracker on my arm I probably would have more than 10,000 steps each day. I don't always carry my phone around so it is not tracking everything. Note to self – must get one!
Confession time – I didn't quite make 5 km on 2 days out of the week. I found myself making excuses so I'll address that this week!
The water intake was easy enough, I do tend to drink a lot of water. I bought myself a reusable litre bottle so I can fill it at least twice. This helps me monitor the intake easily.
Fasting
For me, the part I feared most was the fasting side of the challenge. I had slipped into the habit of snacking on the sofa at night. No doubt this is where the extra pounds sneaked in!
Strangely I have noticed that by drinking more water and moving more, I am not as hungry! It is said that when we think we are hungry, we are actually thirsty. This most likely is the case – for me anyway.
I started the week with a 12:12 window. Fast for 12 hours, eat within 12 hours. As the week progressed I naturally moved to a 14:10 window and on writing this, I am at 15:9. The challenge is to get to 16:8 – fast for 16 hours and only eat during an 8 hour window – I am getting there!
Routine
As I work through week 2 now, I know that routine is the key to success. This morning I decided to go for my walk before doing anything else. Storm Ellen blew through town last night so it was blustery. My favourite type of day! Windy but sunny (for the moment!)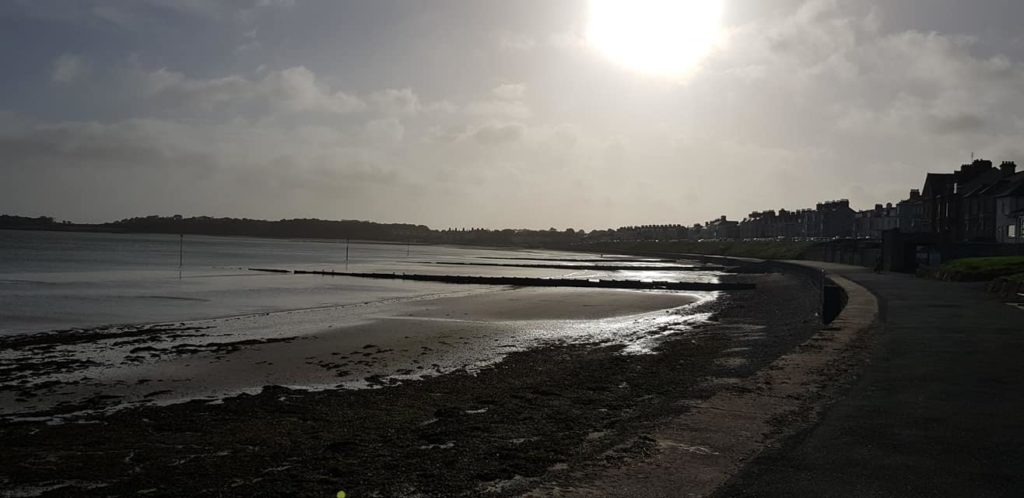 I walked along the beach this morning feeling glad to be alive. When I got home I did my Qi Gong set using the video subscription I have with my teacher. I meditated and have just had a super greens protein shake to break my fast after 15.5 hours.
I am starting to feel better. More energy, better sleep and my skin is glowing. It is a tough challenge at times but worth it.
I'll check in with you again next week as I move through week 3. Let me know how you keep motivated. I would love to hear from you with your inspirational stories. Leave me a comment and remember to follow the blog for updates.
Much love, Debi