Little did I know back in January that this was to be one of the most pivotal years of my life! None of us could have foreseen how life would change. In this post I am reviewing how my year went. This is simply a reflective practice on my part. It is important to always reflect and review, don't you think?
Review – January 2020
Let's begin the review. As January unfolded I handed my notice into my full time office job. I had decided to make the leap back into self employment. It was time to throw myself completely back into running Rocks n Rituals. No more playing – time to get real. I remember having a few worries about whether I could do it and I did go for a couple of part time job interviews. Thankfully I didn't get them. The universe was telling me to show up for myself. I could do it!
January also saw me take on the biggest group of Shamanic students I had ever had. The group was so big it had to be split in two. I recall the eager faces of the 18 students as they started on their journey around the Medicine Wheel.
I also was facing the challenge of doing my driver training with St John so I could drive the ambulance – and I took on several training courses too. One of which was the Level 3 Award in Education and Training, so that I could become a first aid trainer.
February & March Review
February saw me leave my office job. It was an emotional day but the sense of freedom was immense. I became totally responsible for my finances. No more safety blanket of a regular salary. It is funny, in hindsight had I known what was to come in March, I may never have left. The thing is, whilst having the extra cash from furlough would have been nice, it would have held me back. I probably would never have followed my dream and I wouldn't be where I am now.
March opened with Creative Coffee mornings and art therapy. It was quickly slammed shut with lockdown on 23rd March – a day most of us will not forget! I recall being totally shocked at how the world came to a standstill. It was strangely nice though – the silence allowed me to hear the sea from my back garden. This is not normal – the cars on the carriageway usually drown it out. I was amused at how the birds and wildlife kept looking in at us – I bet they were wondering what on earth was happening with all the humans being locked away!
April – June – The Lockdown Months!
As April rolled in, Zoom sessions and distance healing was becoming the norm for me. I also found myself out in the ambulance at least twice a week assisting Northern Ireland Ambulance Service (NIAS) with patient transfers. Looking back, it was scary at first being out on the front line. We had our fair share of Covid patients over the months but it was so rewarding to be able to get out and help. And it was also amazing to get out of the house!
May and June saw some lovely weather and I spent these months in a similar way to April. Zoom training sessions, online learning, distance healing and lots and lots of ambulance work. I now understood why the Universe had pushed me so hard in 2019 to put a lot of my business online. I am so glad I followed that call!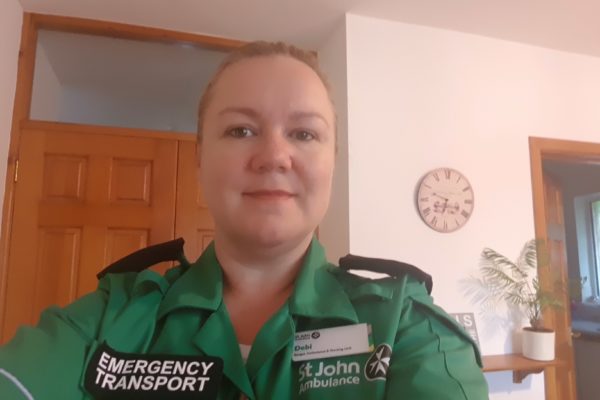 June was also fabulous as for the first time in months a "normal" duty came in for St John. I got to cover a motorbike event at Kirkistown with some colleagues. It was so fabulous doing something other than NIAS work! I also started work on my new and updated website in June. It pushed me out of my comfort zone to have to spend so much money on the business but it was so worth it in the end!
Normality?
July saw a return to some kind of normality. I was able to see clients in person again and it was fantastic to get back to real classes with my students. Upon review, August saw a huge influx of Reiki training enquiries. And it was the first month in ages that I did not have to cover any NIAS shifts – just Kirkistown events which was a welcome break. I think during the 4 months of lockdown I covered well over 250 hours of voluntary shifts for the ambulance service.
August also saw the first of updated training days for St John. We were upskilling to Emergency Ambulance Crew meaning advanced life support and much more. It was so lovely to see everyone again and to be back training together. I also completed some training with Sandra Ingerman and don Oscar Miro-Quesada in Shamanic techniques for my own personal development.
I also found myself up to my eyes with art commissions and it was great to be able to expand the art side of my work during this time.
Autumn Comes In
As September rolled in I was busier than ever with Reiki classes and Shamanic classes. The large group of shamanic students were approaching the end of their course and a new set of students were just enrolling for October.
October began with a flurry of Reiki classes. The 2020 Shamanic group wrapped up and the very next week the new 2020-2021 crew got started on their Medicine Wheel journey. What a whirlwind! Ambulance shift work began to increase again and I was dedicating at least one day a week to my voluntary service. On 16th October I was forced to close my doors again to in person clients as we went into another lockdown.
November began with day 2 of the Emergency Ambulance Crew training and assessments. I passed! It was great to get that under my belt. For one week we had a window of opportunity to re-open, thanks to the shambles at Stormont. In that week I crammed in a Level 2 Reiki class, a Reiki 3 course and saw quite a few clients.
And here we are …
Now as December begins I find myself taking a breather. It has been a busy year! Looking back for this review, I have achieved such a lot this year, despite the set-backs that Covid brought. I completed my Level 3 Award in Education and Training. And I also completed diplomas in Shadow Mastery, Crystal Reiki Teaching and Meditation Teaching. I am waiting with baited breath to see if I can re-open to face to face clients before Christmas but even if I can't, I have distance healing and Zoom sessions to fall back on which is a total blessing.
This week I have found myself slowing down. I have started to work with watercolour in my artwork – a real step out of my comfort zone.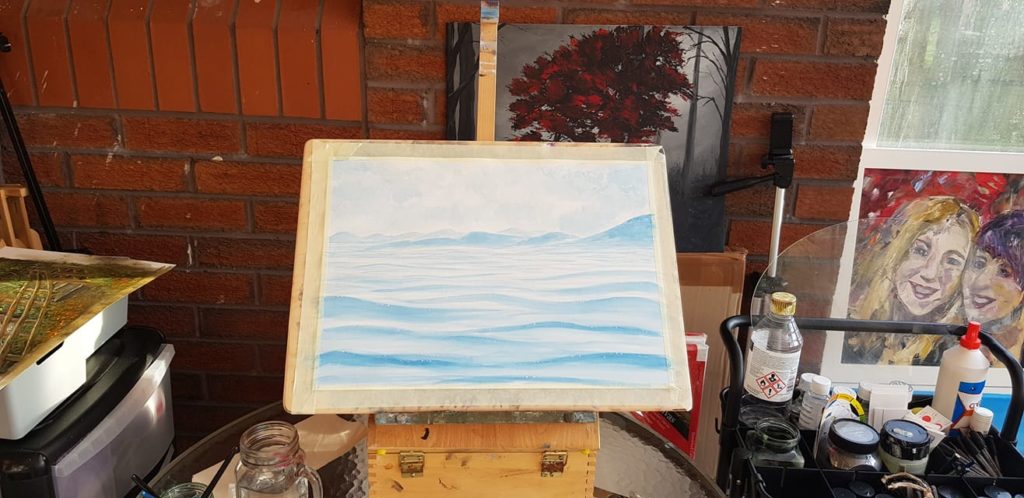 It has brought me a deep peace. It has also reignited my passion for art. I am excited to see what 2021 will bring. Plans are in place for art tutorials, creative circles and new pieces. In Rocks n Rituals, I am looking forward to getting started with my advanced Shamanic students in January. There will also be a brand new Reiki Membership programme starting with Reiki Training NI so I cannot wait to launch that in the New Year.
To wrap up this review, I would like to offer my gratitude. I have been so blessed this year with good health and positive mental attitude. Thank you all for your support and custom throughout this year. May you have a peaceful, healthy and blessed Yuletide period and may 2021 bring you all you dream of.
Much love,
Debi